Description
SABER X-15
For taking on heavy-duty cutting projects, it doesn't get better than the Saber: the best technology, the most power, the greatest endurance. Set up this workhorse and you'll have nothing but years of satisfying, easy, high-quality operation. Cut the biggest jobs down to size in no time – again and again. The Saber makes it simple.
The Saber X15 comes in 37" (95 cm), 45" (116 cm), 54" (137 cm) and 62" (158 cm) sizes. For larger-sized cutting, the large format Saber XXLseries comes in sizes all the way up to 126" (320 cm).
Advantages at a glance
Heavy-duty Construction – Provides stability and longevity.
Double Arm Pull Knife Drive – More powerful, precise cutting.
Center Actuated Clamp – Insures uniform pressure regardless of pile position.
15" Color Touchscreen – microcut® computer control with intuitive graphic interface makes programming fast and easy (12" screen on the 37" (95 cm) model).
CIP3/4 Capable with Networking – No extra hardware or software required.
Automatic Knife Adjustment (Patented) – Knife setting and adjustment can be done automatically without tools (not available on 37" (95 cm) model).
Programmable Clamp Pressure – Automatically adjusts clamp pressure as needed.
Ball Bearing Lead Screw with Linear Guides – Guarantees precise backgauge positioning.
Chromed Main and Side Tables –No maintenance required.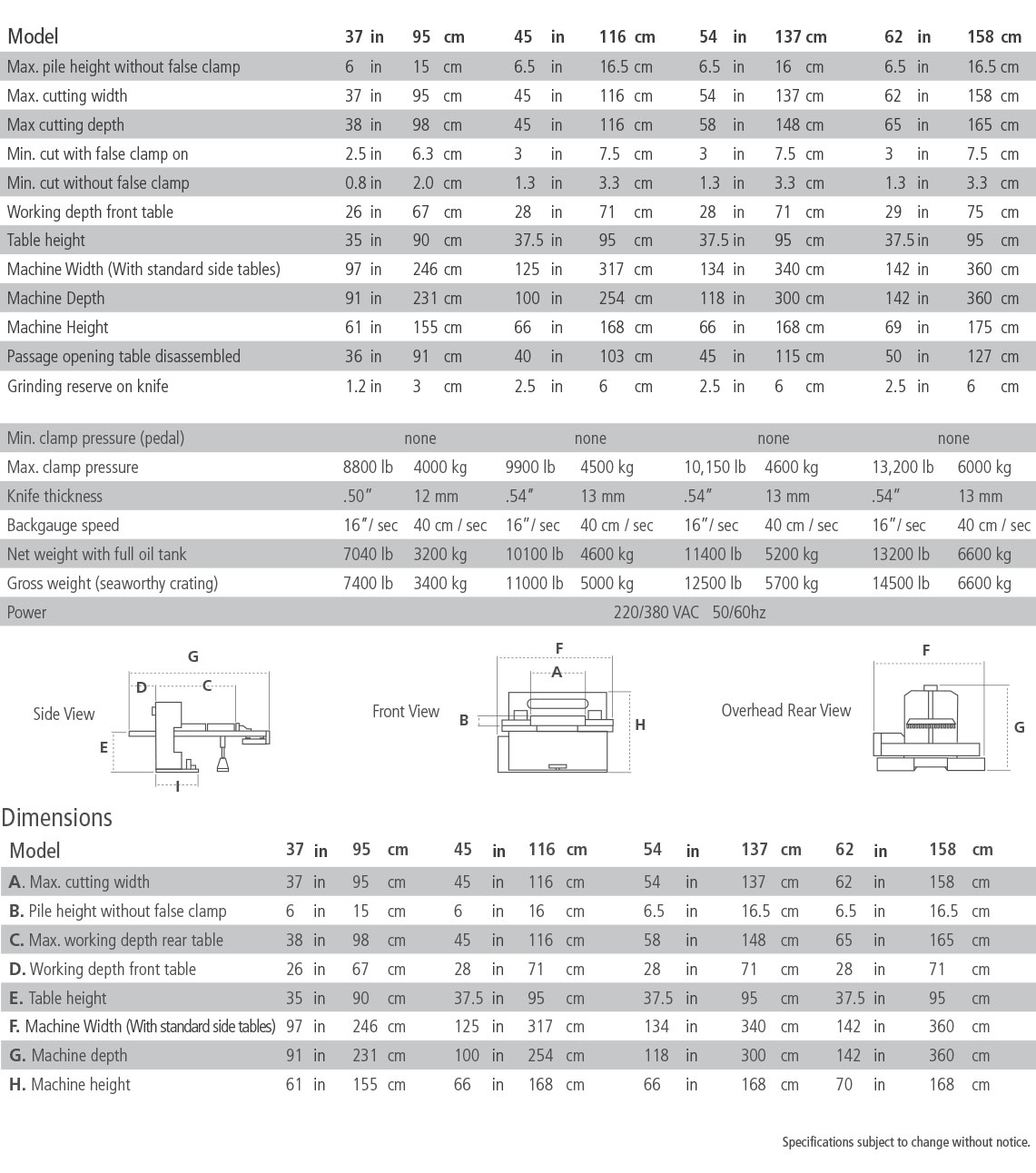 Standard equipment on all SABER® paper cutters:
• Microcut® computerized back gauge control system with:
o 15" Wide Screen color touch screen
o S-95 is only available with 12" Wide Screen
o USB drive for memory storage
o CIP 3/4 Enabled
o Network compatible
• Combination ball bearing lead screw and linear slide
• Electronic Clamp pressure control
• Patented motorized knife adjustment (not available on S-95)
• Patented hydraulic clutch
• Chrome coated low pressure air table with blower
• Chrome coated cast iron side tables with air
• Double end pull (dual gear box) design
• Safety elevator knife change device
• Operator manual/parts list
• Center actuated clamping
• Two high speed knives
• Six plastic cutting sticks
• Jogging block & tool kit
• Infra-red safety beams
• Slot closing device
• False clamp plate
Electrical Requirements: 45 amp, 220 volt, 3 phase, 60 cycle power.