Description
DigiBook 300XL Pro PUR Binder
Open the door to high value, large format book production.
The DigiBook 300XL Pro PUR Perfect binding machine opens the door to high value, large format book production. Now you can offer your customers books with a finished size of up to 450mm x 450mm / 18.71″ x 17.71″! Applications such as deluxe catalogs, photobooks and special editions can all be produced more economically and easily than ever.  And Morgana's patented PUR technology ensures a strong, permanent bind across the widest range of media types and sizes.
Like all members of the DigiBook series, the 300XL uses our innovative PUR adhesive application and cleaning system.  The nozzle system automatically applies the right amount of PUR adhesive for each and every book.
The unique milling and notching tools prepare the spine to ensure optimal interaction with the adhesive. Additionally, the DigiBook 300XL Pro has a completely retractable milling system, allowing for the production of sewn book sections.
Print applications are more demanding than ever. Plastic, film, coated and uncoated paper – light and heavy can now be bound permanently, simply and easily.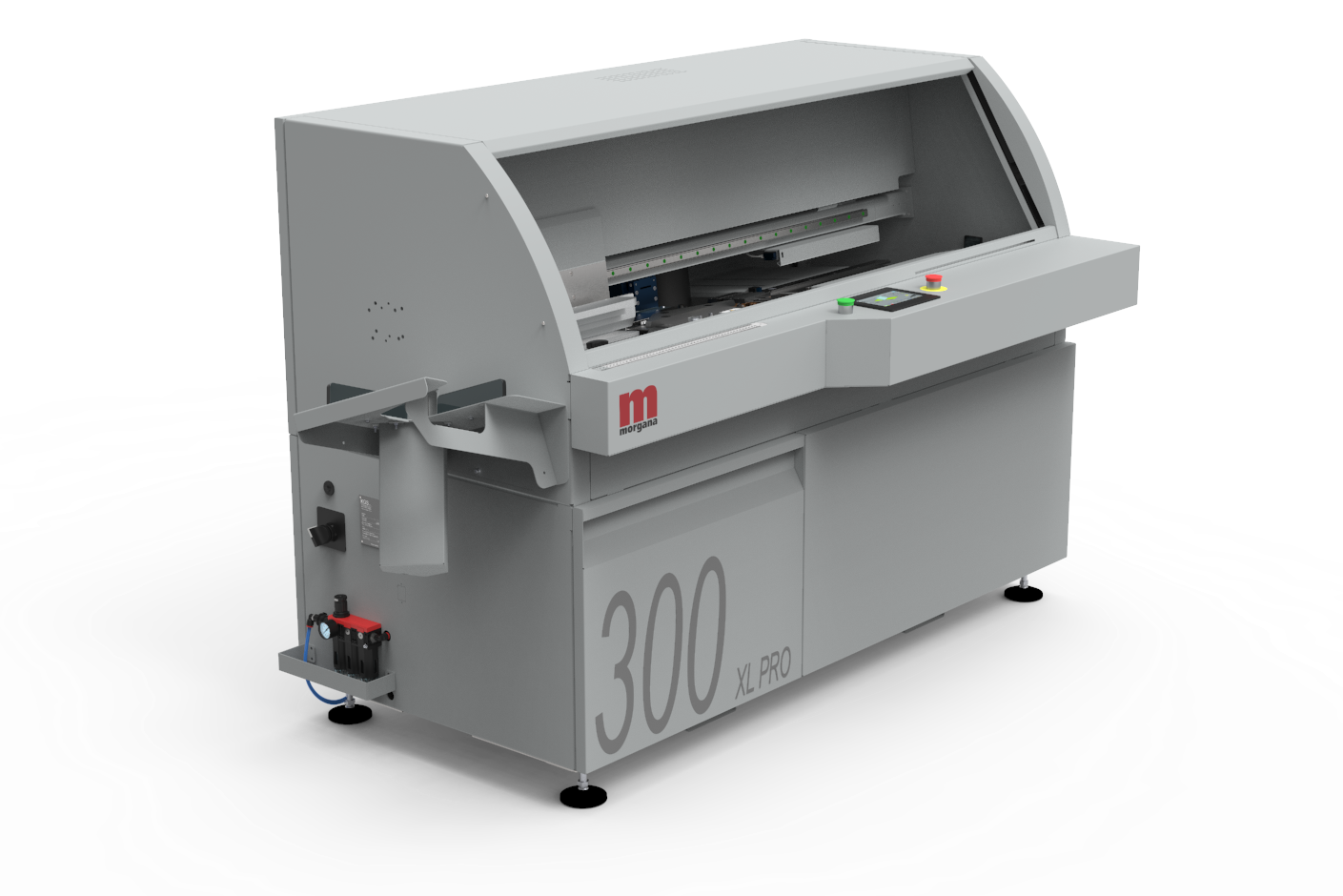 Produce books up to A3 / 12″ x 18″  landscape
Up to 300 books per hour
Touch screen operation complete with automatic format change.
Pneumatic opening and closing of clamp
Binding length (spine) from 100mm / 3.9″ up to 450mm / 17.7″
Spine thickness from 2mm / 0.07″ to 50 mm / 1.96″
Spine preparation by sophisticated milling device
Automatic cleaning and sealing of the glue head
Retractable milling
Patented hermetically sealed PUR application system for spine and side gluing with automatic glue cut-off
Unique angled work surface
Automatic book block measuring and set-up
Innovative application system
The DigiBook 300XL Pro PUR Perfect Binding Machine uses a new and innovative application system which is covered by no less than seven international patents. The application is direct and hermetically sealed, without odour or toxic fume emissions, and does not require extraction fans, thus allowing the use of polyurethane glue in 2kg cartridges in a simple and waste free manner.